Thursday, December 22, 2005
BadSense UPDATE! Page changed due to BadSense post
We previously posted a site that told users to blatantly click the ads every three or four visits - check the screenshot here:


It looks like they've changed their page a bit to comply with AdSense TOS - think they were tipped off by the BadSense referrals? You bet. ;-)

Check out their new page: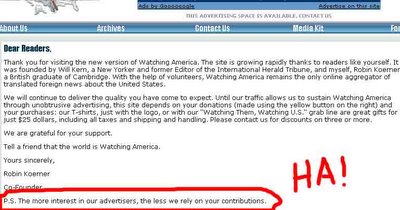 AdSense TOS compliant? Doubtful. Will they change their page again? We'll keep watching and let you know!

Thanks to IncrediBILL for noticing the change, and for the dig in his blog. Check out his blog for some humorous and informative AdSense rants.